WEDDING TRIAL
Wedding Day  /  Wedding Gallery  /  Thank Yous  /  Prices
The first step will be the trial, I recommend any bride to have a trial as it gives us a chance to really get to know each other and you are able to try as many different styles as you wish and are able to get some expert advise from me. A trial  should be booked at least 6-8 weeks prior to your wedding day. This service will be a trial run of your actual day. I can advise you on looks, colours and styles and you are able to give as much input as you wish. This way the day will be much more relaxed for both of us and your able to have the vision of exactly what the final look will be. A trial is also available for as many people as you wish to, the bridal party is also a big part to your wedding day and normally really enjoy getting involved so they are welcome to the trial and also more than welcome to have a trial themselves.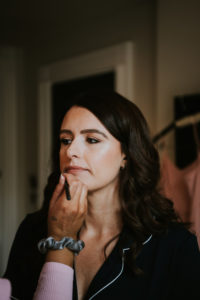 When booking your trial date with me please do bare in mind that my weekends are normally fully booked with weddings and other occasions  so a trial will usually take place on a weekday and also in daylight hours if it is a trial for makeup as you are able to get a much better view of what the makeup will look like on the day! For a trial I would leave 2 – 4 hours as this then gives you a chance to try as many styles as you wish.
Once you are happy with your chosen style then I will take some notes and some photographs and all preparations such as timings, schedules with regards to your hair and makeup on your wedding day can be left in my hands and a confirmation will be sent to you withing a week of the trial.